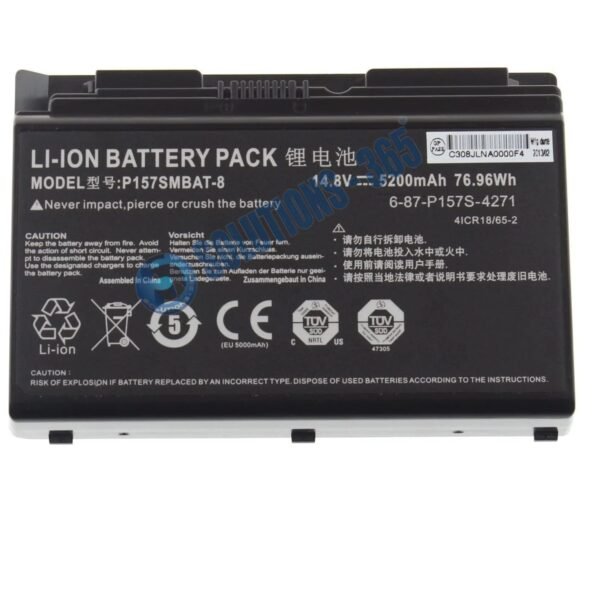 Estimated delivery between 2023/09/25 - 2023/09/30
TECHNICAL SPECIFICATIONS:
Battery rating: 14.8V
Battery capacity: 5200mAh (76.96Wh)
Battery cells: 8-cell
Type: rechargeable Li-ion battery
Battery color: Black
Warranty: 6 Months warranty by us
For any queries call us on 90 94 90 97 90
Warranty: 6 months warranty from solutions-365 only
TERMS & CONDITIONS:
REPLACEMENT:

 For replacement customer need to send the product through courier by their own cost
REFUND:

 If product is working & customer want refund than our company will deduct 20% amount of product. We provide refund within 10 days after receiving the product.
If product is not working & customer want refund than our company will deduct courier charges only and provide refund.
If you're unable to identify your laptop's model number or the part number contact us at +91 9094 909 790 or open a conversation in the chat box
Important Variables of Clevo Laptop Battery | Clevo Batteries
Clevo laptops commonly use a rechargeable and replaceable Lithium-Ion (Li-ion) battery. For the same Laptop model, it is simply removable for storing and can be replaced with a different battery.
Buy CLEVO laptop batteries at the best prices on solutions365.com. The most popular and regular series are where you can locate the CLEVO laptop battery you require.
You can find Laptop Batteries that is inexpensive and of the highest quality, and that is also 100% compatible with original models and high-performance Clevo batteries. You can get 6-Months warranty and 7-days money-back in our online store.