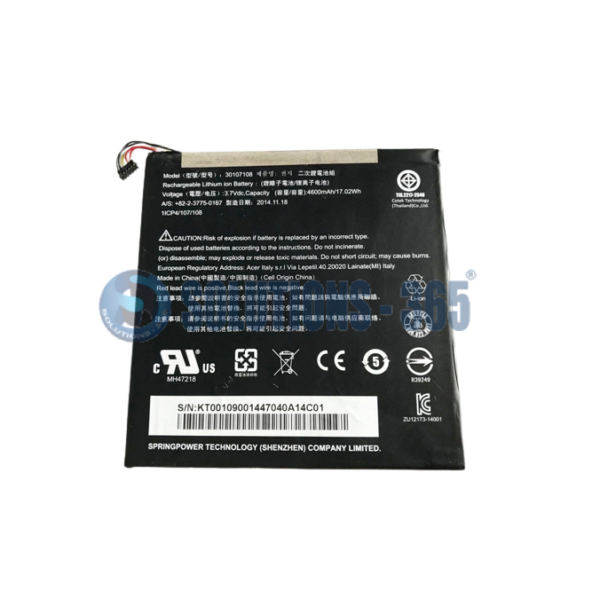 Estimated delivery between 2023/09/25 - 2023/09/30
TECHNICAL SPECIFICATIONS:
Battery capacity: 17.02Wh
Battery rating: 3.7V
Type: rechargeable Li-ion  battery
Condition: New
Warranty: 6 months by us
For any query call us 90 94 90 97 90
Warranty: 6 months warranty from solutions-365 only
TERMS & CONDITIONS:
REPLACEMENT:

 For replacement customer need to send the product through courier by their own cost
REFUND:

 If product is working & customer want refund than our company will deduct 20% amount of product. We provide refund within 10 days after receiving the product.
If product is not working & customer want refund than our company will deduct courier charges only and provide refund.
If you're unable to identify your laptop's model number or the part number contact us at +91 9094 909 790 or open a conversation in the chat box
Important Variables of Acer Laptop Batteries
Laptops and notebooks from Acer are powered by lithium-ion batteries. Li-Ion laptop batteries have Computers built into them that calculate the amount of charge left in the battery. This information is then transferred to Windows, where it is displayed as the battery level.
Acer Lithium-ion (Li-ion) batteries have a 300–500 cycle lifespan on average. After 300 cycles, or roughly a year, with moderate use, Acer Lithium-ion batteries may expect to deliver about 80% of their initial capacity.
All Acer batteries come with a one-year warranty as standard. Model-specific extended warranties must be purchased by utilising the proper authorised list.