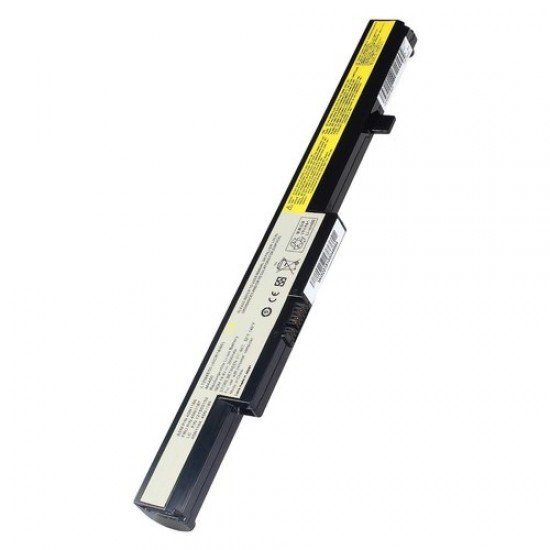 Buy Compatible Lenovo B40 70 Laptop Battery Online
Compatible Lenovo B40 70 Battery Replacement Technical Specification
Battery Type: Li-ion


Voltage: 14.8V


Capacity: 41wh

Colour : Black

Warranty : 1 Year

Compatible Part number:

N1186, 45N1187, L12L4E55, L12M4E55, L12S4E55, L13L4A01,
L13M4A01, L13S4A01

Compatible Model:


Compatible Model:

N40-30 N40-45
N40-80 N40-70
N50-45 N50-70
E40-30 E40-45
E40-70 E40-80
N50-80 Series
Eraser B40,
Eraser B40-30,
Eraser B40-45,
Eraser B40-70,
Eraser B50,
Eraser B50-30,
Eraser B50-30
Touch, Eraser
B50-45,
Eraser B50-70,
Eraser M4400,
Eraser M4400A,
Eraser M4450,
Eraser M4450A,
Eraser N40,
Eraser N40-30,
Eraser, N40-45,
Eraser N40-70,
Eraser N50,
Eraser N50-30,
Eraser N50-45,
Eraser N50-70,
IdeaPad B40,
IdeaPad B40-30,
IdeaPad B40-45,
IdeaPad B40-70,
IdeaPad B50,
IdeaPad B50-30,
IdeaPad B50-30 Touch,
IdeaPad B50-45,
IdeaPad B50-70,
IdeaPad M4400,
IdeaPad M4400A,
IdeaPad M4450,
IdeaPad M4450A,
IdeaPad N40,
IdeaPad N40-30,
IdeaPad N40-45,
IdeaPad N40-70,
IdeaPad N50,
IdeaPad N50-30,
IdeaPad N50-45,
IdeaPad N50-70,
IdeaPad V4400,
IdeaPad V4400A,
M4400, M4400A,
M4450, M4450A,
N40 N40-30,
N40-45,N40-70,
N50, N50-30,
N50-45, N50-70,
V4400, V4400A
Our main motive is to deliver high-quality batteries at your doorstep and for any further assistance, you can call our customer care 90 94 90 97 90 for Purchase information or any other queries related product.
About Lenovo Laptop Battery and Accessories at Solutions 365 in Mumbai
We believe to provide the best Lenovo battery, Lenovo chargers (adapters) and Lenovo keyboards for your Lenovo laptops in Mumbai, India. In addition to the savings advantage of purchasing a Lenovo compatible battery, most consumers find that compatible, or generic, laptop batteries outperform OEM batteries. Whether you're looking for a Lenovo Original or Lenovo Compatible battery with warranty, we're proud to carry best Lenovo Laptop Batteries that enhance your Lenovo Laptop experience.
Our best selling laptop batteries:
Dell Laptop Battery | Apple laptop battery | Sony laptop battery | Acer laptop battery | Asus laptop battery | Fujitsu laptop battery | HCL laptop battery | HP laptop battery | Lenovo laptop battery | LG laptop battery | Microsoft laptop battery | MSI laptop battery | Samsung laptop battery | Toshiba laptop battery | Wipro laptop battery
Unlimited Blocks, Tabs or Accordions with any HTML content can be assigned to any individual product or to certain groups of products, like entire categories, brands, products with specific options, attributes, price range, etc. You can indicate any criteria via the advanced product assignment mechanism and only those products matching your criteria will display the modules.
Also, any module can be selectively activated per device (desktop/tablet/phone), customer login status and other criteria. Imagine the possibilities.
Stock:

In Stock

Model:

LENOVO B40-70

SKU:

BATC040
Tags:
compatible b40 70 battery
,
compatible lenovo b40 70 battery
,
compatible lenovo b40 70 battery
,
buy compatible lenovo b40 70 battery
,
compatible lenovo b40 70 battery replacement
,
compatible lenovo b40 70 battery india
,
compatible lenovo b40 70 battery price
,
compatible lenovo b40 70 battery mumbai
,
compatible lenovo b40 70 battery grant road
,
compatible lenovo b40 70 laptop battery
,
compatible lenovo b40 70 battery lamington
,
compatible lenovo b40 70 battery wholesale
,
compatible lenovo b40 70 battery online