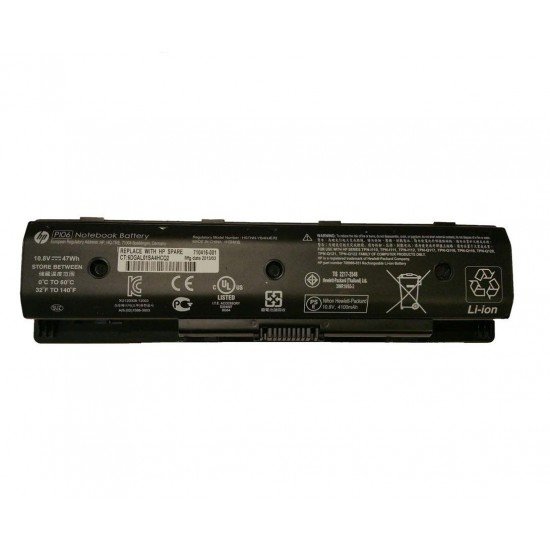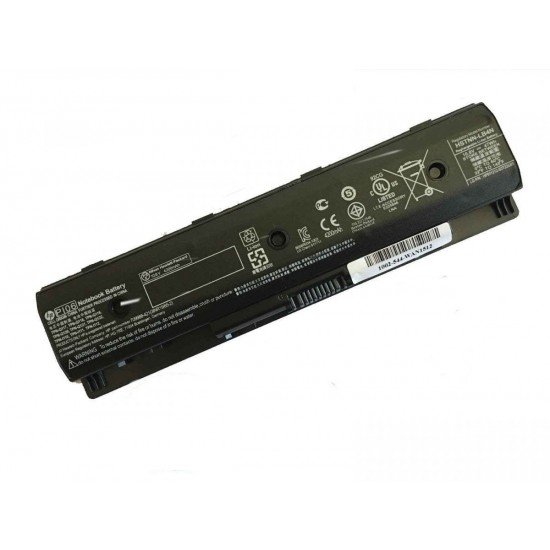 New

LAPTOP BATTERY FOR HP PI06
Battery type: Li-ion

Capacity: 4400 mAh

Voltage: 10.8V

Cell: 6-cell.

Warranty: 1 year


Compatible Part No:

709987-001, 709988-221
709988-241, 709988-242
709988-251, 709988-252
709988-421, 709988-541
709988-542, 709988-851
709989-221, 709989-241
709989-541, 709989-421
709989-831, 710417-001
710416-001, H6L38AA#ABB
H6L38AA, HSTNN-LB40
HSTNN-LB4N, HSTNN-LB4O
HSTNN-YB4O, P106
P109, P1O6, P1O9

Fit laptop model :

Envy 15-J000, Envy 15-Q205TX
Envy 15-J000 CTO, Envy 15-Q206TX
Envy 15-J000EB, Envy 15-Q207TX,
Envy 15-J000EB, Envy 15-J000EC
Envy 15-J005SS, Envy 17-J001EB
Envy 15-J006AX, Envy 17-J001ER
Envy 17-J001SG, Envy 15-J006SS
Envy 15-J007AX, Envy 17-J002EO
Envy 15-J007CL, Envy 17-J002ER
Envy 15-J007EO, Envy 17-J002TX,
Envy 15-J007SS, Envy 17-J003EA
Envy 15-J007TU, Envy 17-J003EO
Envy 15-J008AX, Envy 17-J003ER
Envy 15-J008TU, Envy 17-J003SA
Envy 15-J009EO, Envy 17-J003SG
Envy 15-J009SS, Envy 17-J003TX
Envy 15-J010ER, Envy 17-J003XX
Envy 15-J010SR, Envy 17-J004EG
Envy 15-J010TX, Envy 17-J004ER
Envy 15-J010US, Envy 17-J004SR
Envy 15-J011DX, Envy 17-J004TX
Envy 15-J011ER, Envy 17-J005EG
Envy 15-J011NR, Envy 17-J005EO
Envy 15-J011SB, Envy 17-J005ER
Envy 15-J011SG, Envy 17-J005TX
Envy 15-J011SP, Envy 17-J006EA
Envy 15-J011SR, Envy 17-J006ED
Envy 15-J012EO, Envy 17-J006SR
Envy 15-J012LA, Envy 17-J006TX
Envy 15-J013CL, Envy 17-J007ER
Envy 15-J013SG, Envy 17-J007TX
Envy 15-J013SR, Pavilion 14-E004TU
Pavilion 14-E004TX, Pavilion 14-E005TU
Pavilion 14-E005TX, Pavilion 14-E006TU
Envy 17-J008TX, Pavilion 14-E006TX
Envy 17-J009ED, Pavilion 14-E007TU
Pavilion 14-E007TX, Pavilion 14-E008TU
Pavilion 14-E009TU, Pavilion 14-E010TU
Pavilion 14-E011TX, Pavilion 14-E012LA
Our main motive is to deliver high-quality batteries at your doorstep and for any further assistance, you can call our customer care 90 94 90 97 90 for Purchase information or any other queries related product.
Unlimited Blocks, Tabs or Accordions with any HTML content can be assigned to any individual product or to certain groups of products, like entire categories, brands, products with specific options, attributes, price range, etc. You can indicate any criteria via the advanced product assignment mechanism and only those products matching your criteria will display the modules.
Also, any module can be selectively activated per device (desktop/tablet/phone), customer login status and other criteria. Imagine the possibilities.
Stock:

In Stock

Model:

HP PI06

SKU:

BATC122

HP